PAPER FOOD CONTAINER AND LID COMBO PACKS!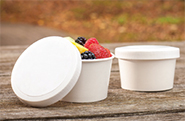 Graphic Packaging International is excited to introduce our new Food Container & Fiber Lid Combo Packs…..a full fiber based solution! This product is ideal for operators with minimal storage space.
The total package offers convenience, strength and performance for single use applications such as oatmeal or individual sides. Keep your food protected at the ideal temperature from purchase location to destination.