HOLD&GO® 4-IN-1 LIDS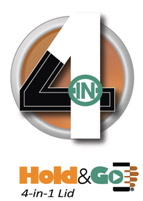 Graphic Packaging International is pleased to announce a new hot cup lid specifically designed for the Hold&Go® line. This new lid takes versatility to the next level and its unique design allows you to use ONE lid for not two...not three...but FOUR cup sizes. The Hold&Go® insulated cup and 4-in-1 lid system reduces the number of SKUs, simplifies your operations and provides a quick and easy solution for consumers on-the-go.
FEATURES & BENEFITS
Unique design
One common lid for multiple sizes: 12, 16, 20 and 24 oz.
Potential to reduce the number of SKUs from 2-4 down to 1
Provides convenience and simplicity for self-service operations
Supports speed of service
Dome sipper shape design that stacks easily wherever you store them
Audible 'snap' sound when applied confirms a secure fit
Available in Black or White
Made in the U.S.A.